A chat Lee Harris, the guitar player of Nick Mason's Saucerful of Secrets, on the day of their return to Italy.
Nick Mason's Saucerful of Secrets are coming back to Italy for 6 unmissable concerts, starting tonight in Vicenza, to then touch Palmanova, Cattolica, Matera, Pompei and Gardone Riviera.
The legendary drummer, with veteran Pink Floyd's and David Gilmour's (plus many others) bass guitar player and vocalist Guy Pratt, Spandau Ballett's Gary Kemp on guitar and vocals, Dom Beken on keyboards and Blockheads' guitar player Lee Harris, have resurrected not only the songs, but also the spirit of Pink Floyd's pre The Dark Side of The Moon years.
While tributing the extraordinary work that Mason, Barrett, Wright, Gilmour and Waters created between 1967 and 1972, the "Saucers" are not a tribute band: the sense of fun, camaraderie, creativity that transpires from their concerts gives them a unique and distinguished personality compared anything else out there in recent years, and this is not referring to the talented Brit or Australian Pink Floyd, but the live acts of the other two surviving Floyd, Roger Waters and David Gilmour.
We have had the chance to ask some question to Lee Harris, the Saucer's "guitar hero" and the person who proposed this type of project to Pratt and Mason to begin with.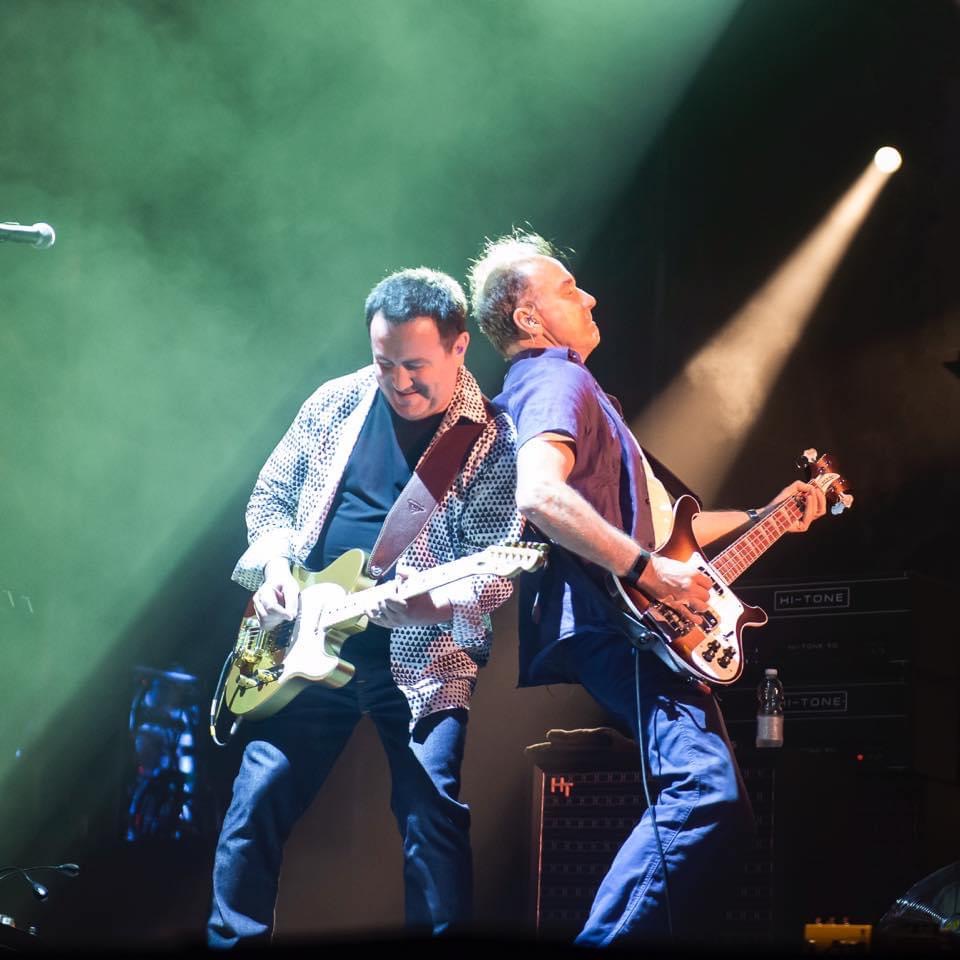 Floyd Channel: This project is wonderful on so many levels. The most obvious is that hearing the "heartbeat of Pink Floyd" live again is an absolute pleasure. How does it feel to play with him?
Lee Harris: It is, obviously, joyful to play with Nick. In our Roundhouse film I say that the first time we played in a room together was interesting because he had never played with me before, but I had been playing with him for 30 years! I have been very lucky to play with a fair amount of musicians who I have looked up to as great players in my career so far and it is always a thrill to play with someone who you have listened to and bought albums of.
FC: The next is that you brought back Syd Barrett's songs on the charts, how do you manage to evocate both the sound and unique feel of his songs?
LH: I am pleased you think that.
There are only about 20 minutes of Syd's songs in our show so it's really important to make them matter. It helps to have respect for the pieces. I first heard a lot of this music when I was 9 years old. I may not have understood it or even, dare I say, liked a lot of it but it has always been there. I think with Syd's music especially it helps that we aren't trying to make it sound exactly as the original recordings. We are re-interpreting not recreating and I like to think that is exactly how he would have approached it and it is what makes every night different.
FC: In a few days "Echoes" and "A Saucerful of Secrets" are going to resonate across the ruins and ghosts of Pompeii again. Fans can't wait as it doesn't get more iconic than this, does it feel special also for you and the rest of the band?
LH: I understand from seeing comments on social media that there is a lot of interest in the concert, and I suppose people will be looking forward to hearing the tracks we play from the film in that environment. I am sure it will be a special day for the people who are making the pilgrimage. But speaking personally every show should be special. Maybe ask me after and I will have a better understanding of it.
FC: Some of the late Rick Wright's finest moments will also be back to Pompeii, it's nice that he is also getting more recognition and something is finally moving in terms of his back catalogue, have you had a chance to hear the remix of "Wet Dream" by Steven Wilson? LH: No, I haven't heard the whole remix yet, but I do know that everyone involved is very happy with it and that Steven (whose new solo album I perform on) is brilliant at what he does.
FC: Any particular reason for playing in the "Teatro Grande degli Scavi" instead of the actual Amphitheater?
LH: It is not available for concerts anymore. Have you heard our rendition of "Set The Controls"? The sub woofers would probably have crumbled what is left of the original venue!
FC: Will there be any surprise in the set for this new leg of the tour? "Cymbaline" seems to be a fan's favorite from that era and its absence is remarkable.
No. These shows are still advertised as The Echoes Tour.
FC: Any chance of a "encore" live album with "Echoes"?
LH: I suppose there may be in the future but for the moment we haven't any plans. Personally, I think we probably need more than 30 minutes of music that isn't also on the Roundhouse package to make it viable and attractive. We are, in essence, a live band/project and I think that is really how we should be experienced. And as a parting shot, I would like to say to certain people. Please. PLEASE put your bloody phones away and enjoy the concert. Stop looking at it thru a phone. You are taking your own enjoyment away and that of the people sitting around you!
Tickets and info: Nick Mason's Saucerful Of Secrets (thesaucerfulofsecrets.com)